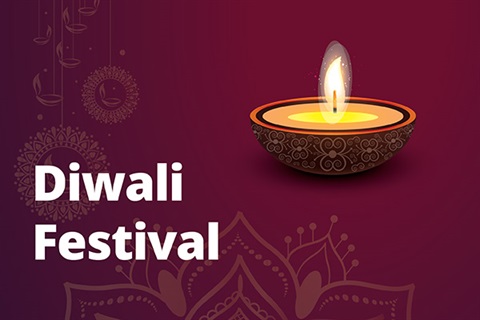 Partnering with members of the Indian community, Horowhenua District Council are lighting up the district to celebrate Diwali 2023.
Diwali, also known as Deepavali or the Indian Festival of Light, has been a time for friends and family to gather, share and look forward to the year ahead since time immemorial. It celebrates the triumph of light over darkness, good over evil and the renewal of life.
In Horowhenua, Diwali will be celebrated with a vibrant cultural week full of traditional festival activities based at Te Takeretanga o Kura-hau-pō, Te Awahou Nieuwe Stroom and Shannon Library The programme will end with a large community event with music, food and dance on Saturday 4 November from 5-9pm at Gladys Taylor Park and Levin's Village Green – everyone is invited.
Mayor Bernie Wanden says, "The annual Diwali festival is a big part of Indian culture and celebrating it in Horowhenua is one way we can build stronger communities. Cultural wellbeing is about the freedom to express your heritage, history, arts and traditions and to participate in activities related to these. It supports the development of values that help you seek meaning and purpose which can come from cultural beliefs or traditions. It is a vitality that communities and individuals can enjoy."
Unlike previous years, there will be no celebratory fireworks. Instead, we will be lighting up the palm trees at Gladys Taylor Park to add more light to the Horowhenua during Diwali celebrations.
People of all ages can also learn more about Diwali with their whānau during children and family crafts between 3.30-5pm at Te Takeretanga o Kura-hau-pō on Wednesday 1 November, at Te Awahou Nieuwe Stroom on Thursday 2 November and at Shannon Library on Friday 3 November.
Mayor Bernie continues, "I'd like to send a warm thank you to our Indian community who have been instrumental on bringing these celebrations to Horowhenua. We look forward to welcoming everyone at our Diwali celebrations. No matter what your background is, you are invited to join in the festivities and connect with others to celebrate this special time and learn more about Indian culture. Diwali is a bright and exciting time – be sure to wear vibrant colours!"
To host a stall at the Diwali festival, please email [email protected] by Friday 20 October 2023 for more information.