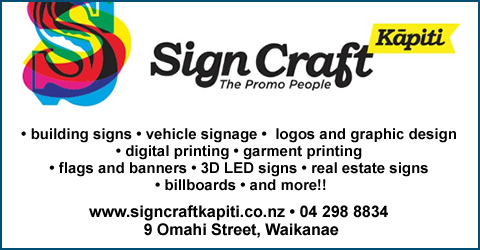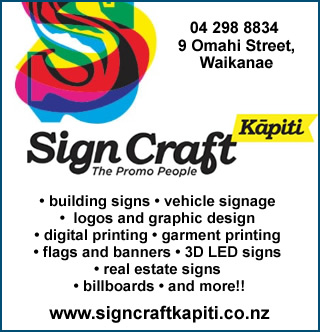 Dangerous trees close Reikorangi Road
(June 13, 2022)
Dangerously damaged 15-metre-high trees have forced the closure of Reikorangi Road in Waikanae tonight. The road is closed to the east of the Waikanae Water…

...
We only want peace of mind
(June 6, 2022)
By Jan Thornborough – cyber security specialist based in Kāpiti These days you would think we've got enough to worry about with the pandemic, the…

...
Kapiti Foodbank Appeal on Saturday
(May 27, 2022)
ROTARY'S ANNUAL FOODBANK APPEAL is on this Saturday. Keep a look out at your local supermarket this Saturday, because it's Rotary's annual foodbank appeal. Volunteers…

...
Kapiti hosts distance swim competition
(May 27, 2022)
The Coastlands Aquatic Centre in Paraparaumu is putting another feather in its cap this Saturday by hosting the 2022 Distance Championships. The event is open…

...
It's a 10 for Kapiti Poets
(May 19, 2022)
Kāpiti Coast District Libraries annual poetry competition returns for the tenth year. Celebrate Phantom Billstickers National Poetry Day by writing a poem on the theme…

...
Menopause driving you crazy? NO!
(May 19, 2022)
Do you have questions about menopause? You are not alone and you are not losing your mind! Menopause Experts are changing the way menopause is…

...
It's time to layer up
(May 15, 2022)
By Jan Thornborough - a cyber security specialist based in Kapiti It's our go-to protection when the autumn leaves fall and the temperature drops. Winter…

...
Heartland Flyer steams ahead
(May 15, 2022)
Despite the wet weather plenty turned out on Sunday to see the popular Heartland Flyer Steam train as it journeyed through the region. The Steam…

...
No Flag over Kapiti
(May 14, 2022)
Kapiti social issues campaigner Dale Evans was flying the flag for Kapiti this week with an impromptu flag raising ceremony at the Paraparaumu Police Station.…

...
Pilates Day for Kapiti
(May 2, 2022)
Kapiti's Z Health Studio has declared May as Pilates Month and is expecting an influx of people wanting to get the best of health heading…

...
Huge Lions Book Fair in Waikanae
(May 2, 2022)
Looking for some excellent reading material as we head towards winter – the Kapiti Combined Lions Charity Book Fair has all you need. This year's…

...
Kapiti gets 7.5% rates hike
(April 25, 2022)
Kapiti Council says throughout their planning for the Annual Plan 2022/23 they have kept the impact of decisions on rates at the forefront. "For 2022/23…

...