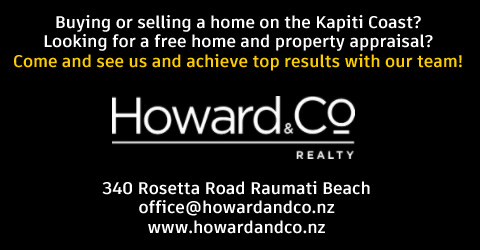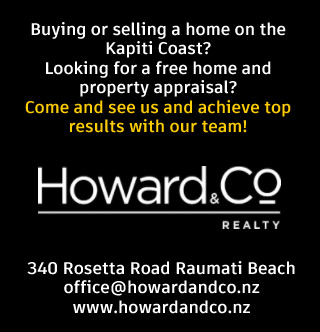 Whale stranded at Hokio
(September 12, 2023)
A Whale appears to be stranded in the sea just south of Hokio Beach. More news as it comes to hand. Photos by Penny Metcalfe…

...
Kapiti Climate Action Grant recipients announced
(August 31, 2023)
Kāpiti Coast District Council has awarded Climate Action Grants to support 11 community and business projects across the district. Climate and environment subcommittee chair Jocelyn…

...
Kapiti focused after Three Waters Amendment
(August 17, 2023)
Kapiti Council Chief Executive Darren Edwards says Parliament recently passing a big chunk of the Government's water reforms provides further certainty into the establishment of…

...
Kāpiti's Greenhouse Emissions Drop
(July 12, 2023)
Districtwide gross greenhouse gas gross emissions for the Kāpiti Coast in 2021/22 dropped 14 percent from 2018/19 largely due to reductions in travel emissions and…

...
Bike Stands coming to Raumati Village
(July 7, 2023)
New bike stands have been ordered for Raumati Village and are due to be installed this month as part of a usage and location trial.…

...
Council starts household battery recycling trial
(June 21, 2023)
Kāpiti Coast District Council has started a one-year recycling trial for household batteries. From Wednesday 21 June approved batteries can be recycled at Paraparaumu Library,…

...
Rainbows over Kapiti
(June 5, 2023)
The mixed weather of icy cold winds and misty rain blended with sunshine saw the skies over Kapiti adorned with spectacular rainbows. Forecasts suggest we…

...
Lukes Treewalkers in $1500 giveaway
(May 29, 2023)
Friends in high places can be a great asset. Kapiti's Luke Burns has already scaled the heights and his business Lukes Treewalkers has just announced…

...
Pacific earthquake triggers tsunami warning
(May 19, 2023)
A 7.8 magnitude earthquake struck the South Pacific this afternoon, the US Geological Survey (USGS) said, triggering a regional tsunami warning. The US National Tsunami…

...
Kāpiti plants trees for King Charles III
(May 4, 2023)
Kāpiti Coast District Council acknowledged the Coronation of His Majesty King Charles III with a small tree planting event at Ferndale Reserve in Waikanae this…

...
KCDC Allocates $200,000 Climate Action Grant
(April 27, 2023)
Kāpiti Coast District Council has allocated $200,000 over two years in new funding for local climate action initiatives. Council strategy, operations, and finance committee chair…

...
Kāpiti Council welcomes three waters reset
(April 17, 2023)
Kapiti Mayor Janet Holborow says Prime Minister Chris Hipkins and Local Government Minister Kieran McAnulty's announcement to move from four Water Services Entities to ten…

...