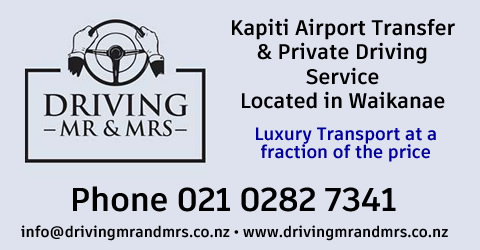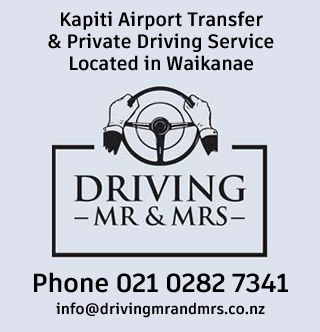 Counterfeit banknotes doing the rounds
(January 8, 2022)
Police are asking businesses to be on the lookout for counterfeit money, after fake banknotes were presented at businesses recently. Police are making enquiries to…

...
January Gardening with Henri Ham
(January 4, 2022)
As we start the new year, we resolve to make it the best year yet. Many of our goals include eating healthier, exercising a bit…

...
Solar power shines in Kapiti
(November 22, 2021)
Duncan's Brewing Company of Kapiti has just installed 70 solar panels producing 30 kilowatts of power which will supply enough grunt to run the entire…

...
Professor Lester, Bug Man in Kapiti talk
(November 20, 2021)
Professor Phil Lester, head of Biological Sciences at Victoria University of Wellington, has a passion for all six-legged creatures, but especially for bees. He shared…

...
Kapiti's Tramway wins Australasian Award
(October 28, 2021)
A former Wellington tram has been restored by the Wellington Tramway Museum and has won a prestigious award open to all Tramway Museums across Australia…

...
Inspiring stories captured
(October 18, 2021)
Kapiti writer Angela Robertson told a full house at the Ocean Road Community Centre that for many the idea of retirement being a sedentary time…

...
Charity Book Fair – read all about it
(October 16, 2021)
The Lions Charity Book Fair on at Waikanae Memorial Hall saw big crowds turn up to get some great reading bargains. Organiser Peter Cresswell of…

...
Graeme Joyes chats with Jason Bei
(October 10, 2021)
Graeme Joyes chats with Kapiti acupuncturist Jason Bei https://www.coastaccessradio.org.nz/Programmes/Details.aspx?PID=1c867513-5233-4c0a-9214-02c296f4e2df Conversations is a popular programme on Kapiti's Coast Access Radio where hosts Graeme Joyes or Todd…

...
Being Older and Bolder in Kapiti
(October 9, 2021)
Kapiti writer Angela Robertson is all about maximising potential as she prepares to launch her latest books with a focus on positive aging. The two…

...
Kapiti book launch honours Anzacs
(September 4, 2021)
Former platoon commander Lieutenant Colonel Tony Howell told a full Club Vista at Paraparaumu that his new book Vietnam ANZACS was written as a tribute…

...
Bill Manhire – just Wow
(August 24, 2021)
Bill Manhire lives in Kapiti and his voice belongs to the world. To hear him speak you might think Manhire something of a toff or…

...
Film-maker to give talk in Kapiti
(August 3, 2021)
The Kapiti Friends of the Library are hosting film-maker John Reid on Sunday 8 August 2:00 pm in the Paraparaumu Library Meeting Room. The well-known…

...
Girl Power in Plumbing Challenge
(July 19, 2021)
Starting a plumbing apprenticeship as an adult can be challenging, doing so as a woman in a largely male dominated industry is even more so.…

...
Boris the Barbaric threatens more than UK
(July 18, 2021)
This is a blog by Kapiti's Ian Powell offering second opinions on health systems, labour market and political issues. In the words of William Morris…

...
Kapiti publisher launching Vietnam ANZACS
(June 14, 2021)
Kapiti publisher Bob Anderson loves books and has a special passion for military histories. Bob's company, John Douglas Publishing, is probably Australasia's leading publisher of…

...
Stay safe at Kapiti Beaches this summer
(October 30, 2020)
With warmer weather fast approaching thousands of Kāpiti Coasters will be taking to the water and safety and vigilance will vital. New Zealand Water Safety…

...