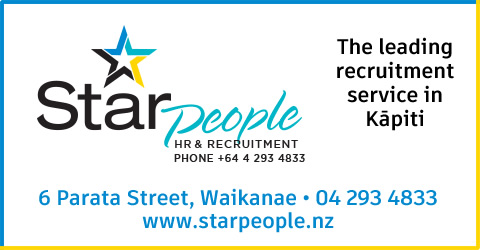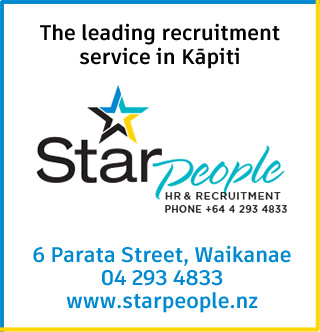 Kapiti events fund opens to major events
(March 18, 2022)
Events fund opens to major events and events with major potential The Major Events Fund, a key action of the Kāpiti Coast Economic Development Strategy,…

...
Art Club flushed with donation
(January 4, 2022)
The Wellington Art Club is greatly relieved to have received a grant of $20,000 for vital bathroom renovations. President Charlotte Hird says," The Wellington Art…

...
Pearl and Florrie's Musical Mural
(November 21, 2021)
Meet for a cuppa and a few inspirational words and a viewing of the classic animation Pearl, Florrie and the Bull at St Peters Hall.…

...
Inspiring stories captured
(October 18, 2021)
Kapiti writer Angela Robertson told a full house at the Ocean Road Community Centre that for many the idea of retirement being a sedentary time…

...
Kapiti Art on a Roll
(October 14, 2021)
Loo paper is still flying off the shelves and just in time to help out is a local Kapiti business which has come up with…

...
Mary Poppins takes off in Kapiti
(October 7, 2021)
The current Kapiti production of Mary Poppins is a great reminder that you don't always have to go to Broadway to see a Broadway show.…

...
Otaki's Maoriland Hub for tech creatives
(August 31, 2021)
Otaki's Maoriland Hub is at the cutting edge of creative technology and have just announced an opportunity for young people to break into this fast…

...
Jeff Simmonds reads A Rope for Harry Fat
(August 30, 2021)
https://www.youtube.com/watch?v=ywS_C5eLmrc Kapiti singer songwriter, musician, filmmaker Jeff Simmonds reads a classic Kiwi poem, in this NZ Poetry Month. "Here's a post for National Poetry Day.…

...
Bill Manhire – just Wow
(August 24, 2021)
Bill Manhire lives in Kapiti and his voice belongs to the world. To hear him speak you might think Manhire something of a toff or…

...
Otaki Players let the sunshine in
(August 19, 2021)
HAIR – THE ROCK MUSICAL, OTAKI PLAYERS SOCIETY. AUGUST 2021 PRODUCTION Reviewed by PENELOPE HAINES For those of us who came of age in the…

...
Kapiti Chorale Lifts the Spirits
(August 11, 2021)
By Norma McCallum 'Music in the Time of COVID ' ... title of a new novel? Well it could be but during these times of…

...
Film-maker to give talk in Kapiti
(August 3, 2021)
The Kapiti Friends of the Library are hosting film-maker John Reid on Sunday 8 August 2:00 pm in the Paraparaumu Library Meeting Room. The well-known…

...
WHITI ORA Art Exhibition
(July 20, 2021)
Opening: July 23 - 6:30pm - Normal Hours: July 24 - August 28, Monday - Saturday, 11am - 4pm - Toi Matarau Gallery, 68 Main…

...
Prize-winning Pianist for Waikanae
(July 18, 2021)
Young Christchurch pianist, Lixin Zhang, due to perform for the Waikanae Music Society on Sunday 1 August, has just won the Silver Medal in the…

...
Kapiti publisher launching Vietnam ANZACS
(June 14, 2021)
Kapiti publisher Bob Anderson loves books and has a special passion for military histories. Bob's company, John Douglas Publishing, is probably Australasia's leading publisher of…

...