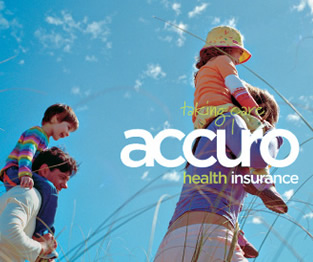 ACCURO Health Insurance
0800 ACCURO (0800 222 876)
www.accuro.co.nz
[email protected]
Who are we?
Accuro is Latin for 'taking care', and that's what we do. We've been taking outstanding care of our members for over 40 years by providing comprehensive health insurance cover and personal service at the lowest possible premiums. We started out in 1971 as a health insurance provider for health professionals, so we're experts in our field.
We're a health insurance company whose sole focus is taking care of your most important asset - your health. We're small enough to provide a friendly, personal and responsive service to the highest standard.
Not for profit
We're not for profit, meaning everything we do is for those who own us - our members. We're proud to be successful in providing our members with top-quality products at the lowest sustainable premiums.
By Kiwis for Kiwis
We're run by Kiwis for Kiwis, so we know what New Zealanders want and need from their health insurance.
Accuro community
Having health insurance with Accuro means you're part of a community that cares.
But we don't just take care of the Accuro community. We take care of the wider community by donating to charities, sharing tips for healthy living on our popular Facebook page and educating the public about the importance of health insurance.