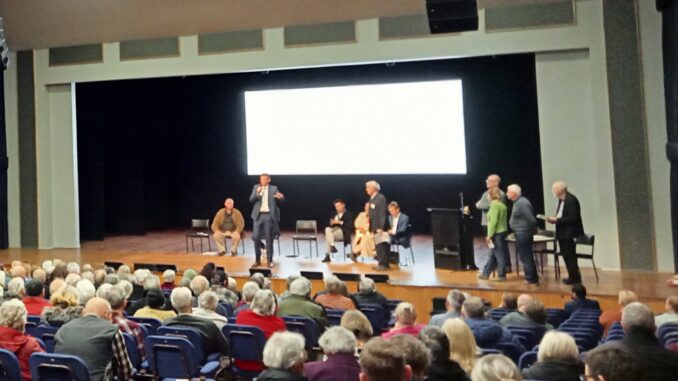 In a spirited debate hosted at Southwards, the leading candidates for the Ōtaki electorate convened to discuss pressing policy issues at the Kāpiti Grey Power election meeting. The stage was set with representatives from five major parties, promising an evening filled with sharp contrasts.
Tim Costley of the National Party and Terisa Ngobi of the Labour Party disagreed on who should take credit for the completion of the Transmission Gully project. Ngobi referred to a Labour representative from the 19th century who, she claimed, first conceived the idea, suggesting a very long-standing commitment from her party. Costley begged to differ, stating that Labour had originally been against the project, going on to point out Labour's back and forth policy on the highway extension between Ōtaki and Levin.
Andy Foster, representing the New Zealand First Party, expressed his intention to maintain a moderate stance, positioning himself and his party as centrists. It remains to be seen how this will resonate with voters looking for clear distinctions.
The Green Party's Ali Muhammad was vocal in his criticism, particularly targeting the National and ACT parties for their climate change policies. Describing their stances as "absolute rubbish", Muhammad made his passion for environmental issues clear.
Tim Costley, in an attempt to underscore his party's commitment to fiscal responsibility, targeted what he sees as the Labour government's "wasteful spending". Pointing to the Waka Kotahi's surge in communication staff numbers from 32 to 88 since Labour took government, Costley decried the ballooning bureaucracy.
ACT's Sean Rush took a controversial stance on climate change, downplaying its threat level to New Zealand. This perspective contrasts starkly with the concerns of other Pacific nations, which view rising sea levels and climate change as existential threats.
Defending her party's achievements, Terisa Ngobi emphasized the successes of Labour's economic strategy. Citing its role in steering New Zealand away from recession, she proudly noted the country's current status as one of the most economically stable in the post-COVID era.
As the election draws near, this debate has given the Ōtaki Electorate community a clearer view of where each candidate stands. Only time will tell which messages resonated the most with the electorate.