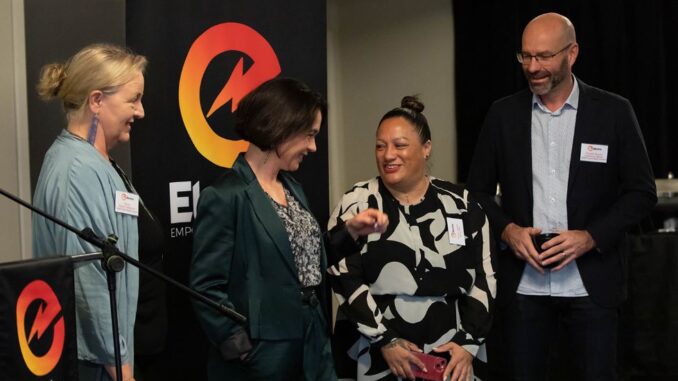 Ginny Andersen, guest speaker at the May Electra Business Breakfast, stuck to the brief of talking about small business and growth services available and the importance of business getting on the digital highway.
The Minister for the Digital Economy and Communications, Seniors, Police, and Small Business, Ms Andersen was well informed and came across as proactive and wanting to see SMEs being successful in NZ and the global economy.
Event organiser Helen Judge says it was also good to see officials from MBIE attending to hear first-hand from local businesses, as they were small business policy staff.
There was a question posed by Councillor Liz Koh about the number of micro-businesses and start-ups in Kāpiti and the ability of government to support these businesses as they are often not eligible for funding when it comes to capability building and business growth funds.
Ms Judge says "It is well known that Kāpiti has proportionately more self-employed people than the national average, which was taken on-board by the Minister so we hope there will be more discussion on this point between the Minister, MBIE and our local economic development team within Kāpiti Coast District Council."
Economics on the macro level will feature at the June Electra Business Breakfast with guest speaker Finance Minister Grant Robertson discussing the Budget.
Ms Judge says this event will be in great demand and attendees should book early.
See: https://www.kcnews.co.nz/2023/05/05/guess-whos-coming-to-breakfast/
Photos by Captured By Friday Photography