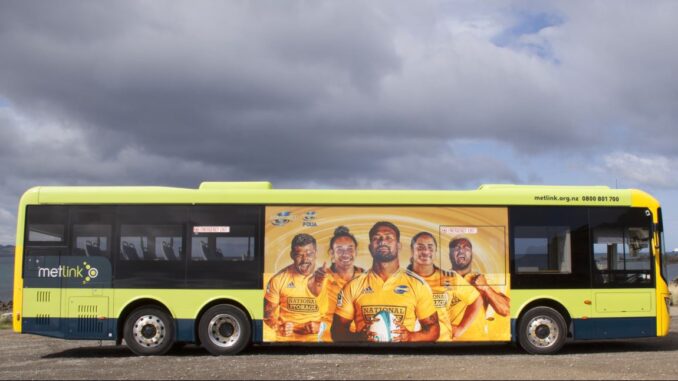 Rugby fans can travel to and from Hurricanes home games at Sky Stadium for free this season on Metlink trains and buses, thanks to a recently signed ticketing partnership.
By showing a match ticket or Hurricanes membership card to train crew and bus drivers on game day, passage is free on timetabled Metlink trains and buses.
Greater Wellington Councillor and rugby commentator Ken Laban said he hoped the partnership between the Hurricanes and the regional council's public transport wing would help more families get to the stadium.
"Metlink is a proud partner and supporter of the Hurricanes, and we're delighted to make it more affordable for families to go to games," Cr Laban said.
"This partnership is a win for rugby fans and a win for the climate. Catching Metlink trains and buses means fewer cars on the road and fewer transport emissions.
"As a part owner of Sky Stadium, Greater Wellington is also pleased to make the arena more accessible to the community. The thrill of being part of a home crowd is something we hope all Hurricanes fans can experience."
Hurricanes CEO Avan Lee said as well as helping more people go to the stadium, the partnership would get them home safely too.
"It's fantastic to team up with Metlink this season. The partnership means match goers can leave their cars at home, go to the game and get home for free, after enjoying their experience at the stadium.
"Hopefully, it also means bigger home crowds to help lift the team to success."
The Hurricanes / Metlink ticketing partnership applies for the following regular season games:
• Hurricanes vs Waratahs, Friday 17 March 2023.
• Hurricanes vs Chiefs, Saturday 15 April 2023.
• Hurricanes vs Brumbies, Friday 28 April 2023.
• Hurricanes vs Moana Pasifika 13 May 2023.
• Hurricanes vs Crusaders, Saturday 3 June 2023.