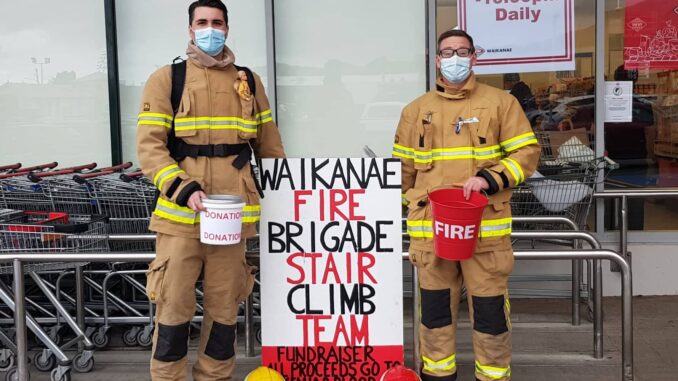 Firefighters from the Waikanae, Paraparaumu, and Ōtaki Volunteer Fire Brigades are set to take on the challenge of climbing the Sky Tower to raise funds for Leukaemia & Blood Cancer New Zealand.
Already fire service personnel have raised $738,782 and there is still two weeks until the event.
Waikanae firefighters Tony Iacuppi and Martin Bohanna are part of a team of seven from the Waikanae Volunteer Fire Brigade taking part in this year's challenge.
The Challenge
Each Firefighter will take 1,103 steps. They will wearing kits weighing 25kg. The Height of the Sky Tower is 328m (tallest building in the southern hemisphere. Each Firefighter will navigate 51 flights of stairs.
Event starts in: 14 Days, Saturday 20 August 2022
New Zealand fire service says this massive annual fundraising event is the ultimate challenge for firefighters from all over Aotearoa to give it their all for Kiwis living with blood cancer by climbing Auckland's Sky Tower.
"New Zealand's Firefighters are used to extreme environments, hard work and regularly saving lives. However, in the Firefighter Sky Tower Challenge, these dedicated, strong men and women are putting in the hard yards for Kiwis going through a different kind of challenge.
"Every day, 8 Kiwis are diagnosed with blood cancer or a related blood condition. It can affect anyone, at any age and any time in life. The cancer journey is overwhelmingly difficult for patients and their families/whānau, but, you can help make a difference now."
How you can help
When you support the firefighters in this challenge, your money goes toward Leukaemia & Blood Cancer New Zealand's mission to care and vision to cure. LBC provides essential support for patients and their families, as well as funding research into blood cancer and raising awareness and advocating for patients.
For more see: https://firefighterschallenge.org.nz/