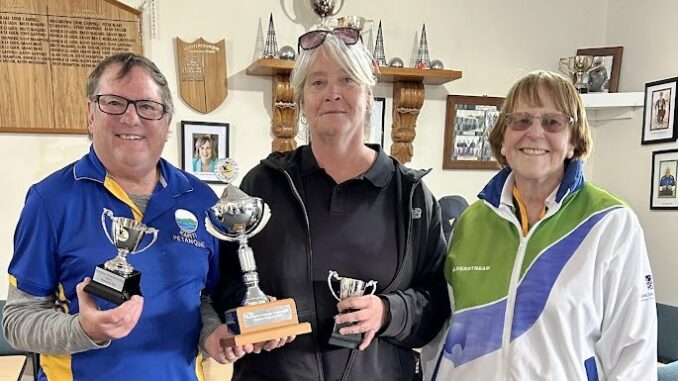 By Marlene Barker
Who knew Kāpiti Petanque Club had created a swimming pool. The WPA Doubles was on recently over a weekend when it was doubtful the tournament would go ahead because of the heavy rain. After much discussion and examination of the terrain by the officials, it was decided to delay the start until 10.30. The predicted break in the weather eventuated, allowing the pistes to drain to the point where play was possible.
Clad in gumboots, galoshes and wet weather gear, the players were eager to start play. Conditions improved throughout the day, allowing the layers of clothing to be removed. One player mentioned he was disappointed that he had to take his wet weather gear off, as everyone would recognise him when he made some bad moves. The next day was fine, making playing conditions a lot better for everyone. The skills exhibited were superb. Thanks to all who took part.

Brett Maguire, our Club Captain, ran the tournament. It was not an easy task with the weather being as it
was, but Brett, in his inimitable way, managed it really well, including our new software programme, complete with his standard smile. Thanks also to those who gave support.
The eventual winners are:
Trophy – Annick LeGuen and Kevin McFadgen
Trophy runners up – Claire Wilson and Christine Strichen
Trophy Consolante – Michael Rocks and Myles Cowper
Trophy 3 rd = Michelle Maxwell and Sharon Cannon
Plate – Teresa and Seymour Harawira
Plate runners up – Ann Hogg and Graeme Morris
Plate Consolante – Marie and Gavin Jones
Bowl – Alan Taylor and Yvonne Futcher
Bowl runners up – Dan Harawira and Claire Bradburn
Congratulations to you all