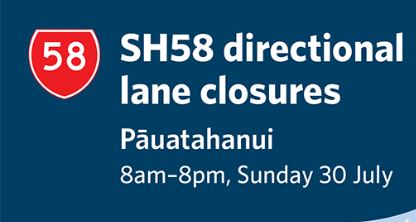 Below is some important information about upcoming directional lane closures along State Highway 58.
Please plan ahead for directional lane closures on Sunday 30 July along on State Highway 58. The westbound lane will be closed for the morning from 8am, and the eastbound direction will be closed in the afternoon after the westbound lane has re-opened.
While this may cause some disruption, it is necessary to complete final surfacing between Pāuatahanui and Te Aranui o Te Rangihaeata – the
Transmission Gully interchange. Local roads and other state highways will operate as normal. Detours will be in place as shown in the map below.
Please factor additional travel time into your journeys and plan ahead. Heavy vehicles, please use State Highway 1. Access will be maintained for emergency vehicles, cyclists and pedestrians. Work is weather dependent and may be deferred to Sunday 6th August or the following Sunday.
More information can be found on the website.