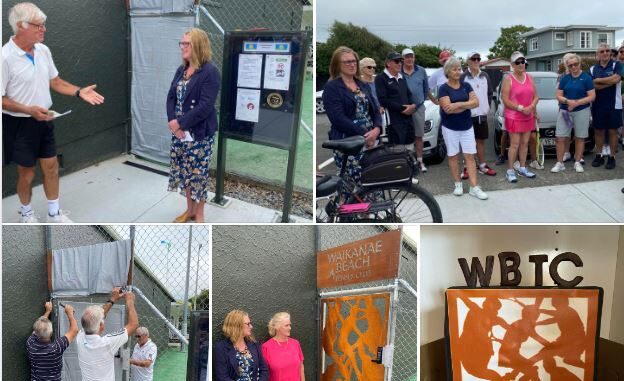 A major artwork by well-known Kāpiti Artist Adele Souster, featuring tennis as an active sport, is the centrepiece of the new entrance to the Waikanae Beach Tennis Club which was unveiled recently by Councillor Jocelyn Prvanov.
The new entranceway is the first stage of a redevelopment of the Club's facilities planned over a two-year period. Later this year, three of the four courts will be re-surfaced and plans are in place to replace and extend the lighting to cover all four courts.
The remodelling of the entranceway was funded in part by a generous grant from the Waikanae Community Board.
Tim Sutton, President of the Tennis Club, says the Club is delighted to have had the support of the Community Board and many others to redevelop the entranceway.
"And we are proud that Adele Souster, a club member, has contributed her time to develop this wonderful artwork featuring tennis, for our gate.
Mr Sutton says several other club members also made valuable contributions, and local businesses who contributed include Hawken Concrete Services who laid the concrete pad at a concessional price.
Richard Mansell, the Chair of the Community Board, says supporting the arts and getting involved in sport are so important to who we are as a community.
"It is great to see this collaboration between a local artist, one of our thriving sports clubs and the Waikanae Community Board come to fruition."
Waikanae Beach Tennis Club is now one of the largest tennis clubs in the region, having more than doubled membership over the last two years. The Club has seven senior inter-club teams competing in Wellington competitions. The junior programme is particularly active with nine junior inter-club teams competing actively. A qualified coach supports the junior development programmes and is available to coach members. Senior and junior championships are held annually and weekly club sessions are very well attended. Family memberships have grown strongly.
Tim Sutton says "Our growing membership means that we need to rapidly develop the club's facilities. We have raised much of the funds we need but are looking for further support from the community and local business."

Waikanae Beach Tennis Club: https://clubspark.kiwi/WaikanaeBeachTennisClub
Adele Souster: http://www.adelesousterart.co.nz/