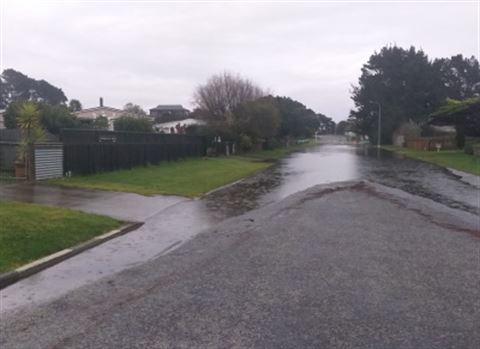 As heavy rainfall causes flooding and power outages around the district, Horowhenua District Council's Civil Defence Emergency Management (CDEM) team continues to monitor the situation and is working to make contact with affected residents.
Chief Executive Monique Davidson says, "Our CDEM team is monitoring the situation. We have not activated our Emergency Operations Centre (EOC) but we are keeping a close eye on the weather and will scale up our response if required.  We encourage residents to have a plan if flood levels rise or if power outages continue for an extended period of time. If you do require help, please contact Council on 06 366 0999."
Sixteen properties at Waitārere Beach have been without power since 11am yesterday. Electra linespeople have been on site throughout the night and day to assess the situation, and unfortunately ponding is making it unsafe to restore power. However, crews will continue to monitor transformers and when it is safe to do so power will be restored.
Surface flooding has been reported at the following locations:
Hōkio Beach
Kingi Street
Tuiti Street.

Waitārere Beach

Waitārere Rise
Ramona Avenue
Waka Tete Place
Truebridge Drive
Kanuka Drive.
There is also flooding on the corner of Hickford Road and Foxton-Shannon Road.
These roads are currently passable, but we advise people to travel with caution.
Council roading teams and engineers have been on site to assess the situation across the district.  Sandbags have been deployed to isolated properties.  Emergency bunding has been put in place as a temporary measure to protect the Hydrabad Holiday Park and Council officers are currently looking at further solutions to help prevent further flooding and support affected residents.
Weather forecast
There was a heavy rain watch for Horowhenua to Wellington and the Tararua Range for four hours from 9am – 1pm today with more rain forecast until 2pm on Friday 29 July. Heavy showers and thunderstorms are likely about Horowhenua and the Tararua Range this evening and overnight.
Assistance available
Please call Council on 06 366 0999 if you have been effected by the current weather event and need support.