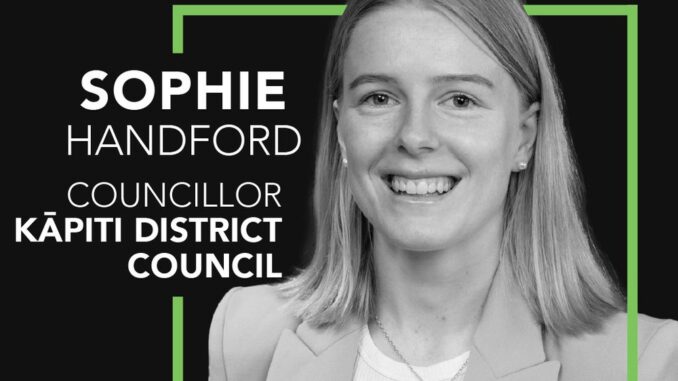 Sophie Handford won the Paekākāriki-Raumati ward seat in a landslide at the last election and it will take a brave candidate to take her on this time.
Cr Handford has announced she will seek re-election again this year and has a very high profile both locally and nationally as an elected member and as an advocate for youth and climate change issues.
At her well attended campaign launch Cr Handford said she was incredibly humbled by the support she has received.
"The last three years have had pros and cons, highs and lows and thank you to my colleagues for their support in the early stages. There is so much more that needs to be done."
First elected as councillor at age 18 – the youngest in New Zealand at the time – Cr Handford says Kāpiti has lots of challenges and opportunities ahead.
"This is the right time to be on the front line to make the changes needed to empower local communities."
She says standing for the Paekākāriki-Raumati Ward is a response to that local empowerment.
"I was born here, went to school at Paekākāriki, then Kāpiti College. I'm proud to represent a place I love to call home."
Cr Handford says achievements in her first term included investment across the district in expanding youth services, with money now committed for exploring a youth development space in Ōtaki and the signing off on the Climate Emergency Action Framework which made climate considerations mandatory on all reports coming to the council table.
She says priorities for the next three years would see her continue climate change action, ensure collaboration around the council table, continue work in the housing space and increase engagement with the community.
Sophie Handford is unremittingly positive and optimistic, whip smart and politically savvy way beyond her years. At the campaign launch several speakers including Ōtaki MP Terisa Ngobi and Greater Wellington candidate Asher Wilson-Goldman spoke of her as a crucial driving force, while Paekākāriki Community Board member Jess Hortop spoke of Sophie's great ability at building relationships, as well as energising young people and giving them a voice.