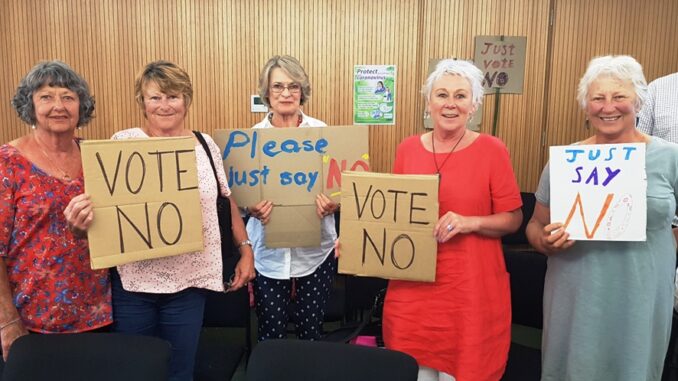 After a meeting which lasted nine hours, Kāpiti councillors voted 7-4 on Thursday in favour of the contentious Kāpiti Island Gateway project, estimated to cost around $4.5million.
$2.23million of the cost will be met by taxpayers via the PGF (Provincial Growth Fund) and the rest by Kāpiti ratepayers.
In the largest public speaking section of the meeting in many years 29 people spoke on the project, some for, most against.
There has been very strong public opposition to this project and this came to a head Thursday when the two local Paraparaumu Ward councillors, Martin Halliday and Bernie Randall spoke out strongly against the project, along with Waikanae ward councillor Jocelyn Prvanov and Districtwide councillor Gwynn Compton. Those in favour were Crs Rob McCann, Janet Holborow, James Cootes, Jackie Elliott, Angela Buswell, Sophie Handford, and Mayor Gurunathan.
Much of the opposition related to the process and what the Kāpiti Chamber of Commerce called one of the worst consultative processes ever seen in Kāpiti.
Liz Koh, former Chamber President and former Chair of Kāpiti Economic Development group KEDA, says "Kāpiti has been caught with its pants down."
Ms Koh says Kāpiti does not have a strategic plan for the development of tourism in Kāpiti and has under-spent on economic development for decades.
"What we have now is a knee jerk reaction to a lolly scramble that has not been through a well thought out process."
Ms Koh also says the project viability is extremely sensitive to revenue. Even at what many say are extremely optimistic forecasts at 75% it would take 10 years to break even and at 50% it is 20 years before the breakeven point.
Cr Gwynn Compton who spearheaded the political opposition says, "In my view, the claimed economic benefits in the business case for this specific Gateway project weren't credible. While I acknowledged the cultural opportunities the Gateway offered, ultimately those and the marginal improvements to biosecurity arrangements weren't enough to offset the lack of identifiable economic benefits that could be attributed to this building over and above growth that's projected to occur anyway.
Cr Compton says there has been a significant shift in the numbers being used now from those used to get $2.23million from the PGF but Council has not gone back to the PGF with a new case.
He says there has not been a single piece of analysis to show the benefits. "I cannot in good faith support this process and believe it should be investigated by the Auditor General."
Vicky and Glen Cooper, operators of Kāpiti Island Eco, believe they have been largely sidelined in the process.
Vicky Cooper told councillors at the meeting "The report you have in front of you continues to not refer to any information from our company, yet we take 43% of the visitors, we haven't been asked a thing. I believe this is a deliberate disregard to manipulate the figures you read."
Ms Cooper told the meeting the feasibility of the project has failed to consider the most fundamental issue – the sustainability of the Island businesses.
See What the Public and Councillors said:
no