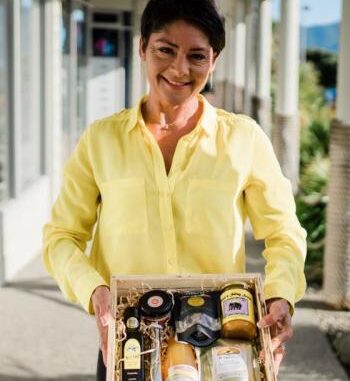 Kāpiti business We Love Local, specialising in gift boxes, is expanding to cover more of the Greater Wellington region.
The wooden boxes themselves are unique, with most crafted by The Shed Project – a local organisation in Kāpiti who are working to improve the lives of differently-abled people. The socially-conscious gift box company packing is done by We Love Local's family team, based in Waikanae.
Business founder Valerie Reitnauer says they have received lots of positive feedback from the Kāpiti, Horowhenua and Wellington businesses featured in their gift boxes to date.
And now it is Wairarapa's turn with their creative artisan community being showcased by We Love Local, who are launching a special offering next week to celebrate the region and make it part of their wider Wellington offerings.
Items from Greytown Honey, be happy Chocolate, Finom Peanut Brittle, The Clareville Bakery and Huangarua Olive Oil are among the products included in the gift box, with a focus on popular items that everyone likes, says Ms Reitnauer.
"We're always trying to select products that are all-around pleasers. Something sweet like chocolate or brittle is always a winner, or a snack you can open straight away and treat yourself. But we also balance it out with special pantry items such as olive oil or honey."
Now, with the launch of the Wairarapa gift box, the family-owned business will be covering and showcasing producers from all districts in the wider Wellington region.
Ms Reitnauer says some artisan producers have approached them for inclusion in the gift boxes, but We Love Local also discover products by visiting local markets.
"After the first lockdown earlier this year we were fortunate to have helped some producers sell more of their products while markets weren't running. We are able to get their products to a wider audience, throughout the country, and we also receive orders from overseas customers who want to gift our boxes to their loved ones in New Zealand," says Mr Reitnauer.
For more: www.welovelocal.nz
no