The Kāpiti Food Fair has released the site map to all vendors. "It's a hugely exciting yet busy time focusing on all the last minute logistics to make the Fair a huge success", says Fair spokesperson, Helene Judge.
"This is the biggest Fair in our six year history with 139 sites. We are sticking to our mantra of all sites being New Zealand manufactured food & beverage products, ready to eat foods and other food related products. Visitors to the Fair will not be disappointed by the choice available."
Join the Fair on its Facebook page www.facebook.com/pages/Kāpiti-Food-Fair or go to our web site www.kapitifoodfair.net to view the site map and entertainment programme that is planned. Talented local musicians (Brasso, Two Flat Whites, Gravel Trax, Serena Alpha and Jukebox Gypsies) will take to the Big Mac Slabs Stretch Tent Arena along with comedian & actor Cohen Holloway who will hog the mic with his hilarious take on iconic kiwi food. For kids big and small, there will be buskers Zane & Degge and Matt Time entertainment along with a selection of bouncy castles and henna body art.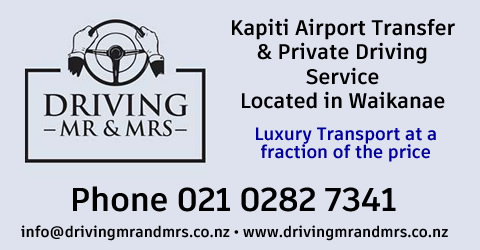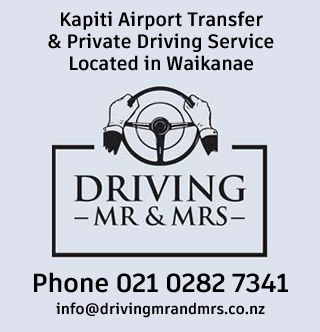 If in Wellington keep your eyes peeled for our enormous 10m banner that is up on the Jervois Quay Overbridge from 30 Nov. Remember to tell all your friends, family and colleagues from Wellington to jump on the train or to full their car to visit Kāpiti and the Fair.
"Without a doubt the Mazengarb Reserve will be transformed for the day on Sat 5 Dec, 10am to 3pm make a note to be there for a fantastic gastronomic day out," says Helene.
Jeanine van Kradenburg of PartyPerfect Catering is all over the menu that celebrity chef Annabelle White has prepared for her public demonstration at the Fair. "The focus is on summer food which incorporates local sponsored products from KOAST Limoncello, Sone's Salad Sauce and Tendertips Asparagus. The audience can look forward to Annabelle turning on a really entertaining show starting at 11.30am in the Pavilion Building seats run out quickly so arrive early." At the end of the demonstration Annabelle will go on a hosted walkabout of the Fair with Mayor Ross Church.
The Fair runs rain or shine and entry is free for those up to 18 and $5 per adult (net proceeds to Kāpiti Youth Support, Kāpiti Food Bank, Youth Quest). The Kāpiti Rotary Club will be running an Eftpos cash out facility and many vendors have their own Eftpos so if you run out of money don't worry.
There will be lots to taste and buy to take home for your pantry or as a gift for someone special. Nor is there any need to bring your lunch as the united nations of ready to vendors will be at your service throughout the Fair serving up delicious kai for everyone to enjoy, including meats, vegetarian, dairy & gluten free, raw food treats and superb ethnic creations.
For those that like to try different beers, wines, liqueurs, ports, cider, schnapps, cordials, syrups, fizzy drinks, smoothies & delicious teas, you will find something to wet your whistle. For those with a sweet tooth there will be ice cream, cakes & biscuits, handmade cheesecakes, honey, sweets, chocolate & specialty confectionary and for those with a taste for sauces, pickles, jams, eggs, drizzles, dips, pesto, hummus, dukkah, fancy butters, nuts, freshly ground peanut butter, preserves, vinegars, fine olive oil, smoke eel, gourmet pies, figs, cherries, sea salts . you will find vendors ready to tempt and serve.
On top of all that you will find a really interesting range of food related products and gadgets to take pride of place in your kitchen at home or to package up as a nice Christmas gift for a friend.
Once again Whitireia Kāpiti Campus and Mitre 10 MEGA Kāpiti will be running their popular Student BBQ competition. There will be heats run throughout the day and the winner will take away a BBQ donated by Mitre 10 MEGA Kāpiti.
The Fair is a perfect pre-Christmas outing for gifts, to try different foods and drinks, to be entertained and above all, to have fun. Thanks go to our Principal Supporter (Kāpiti Rotary Club); Sponsors (Bayleys Real Estate Wellington, Craig Pope Mortgages & Insurance, Kāpiti Business Projects, Kāpiti Cakes & Bakery, Kāpiti News, PartyPerfect Catering); Celebrity Kitchen Sponsors (Air New Zealand, BCE Catering Equipment, Greenmantle Estate Lodge, KOAST Limoncello, New World Kāpiti, Sone's Sauces, Tendertips Asparagus); and our Supporters (Action Safety, Beach FM, Big Mac Slabs Furniture, Brien Electrical, Captured by Friday, Captured Essence, Goodman Contractors, Kāpiti Coast District Council, Kāpiti Hire, Low Cost Bins, M2PP, NZME, Paraparaumu College, SignCraft, Soundsgood Audio, Whitireia Kāpiti Campus).