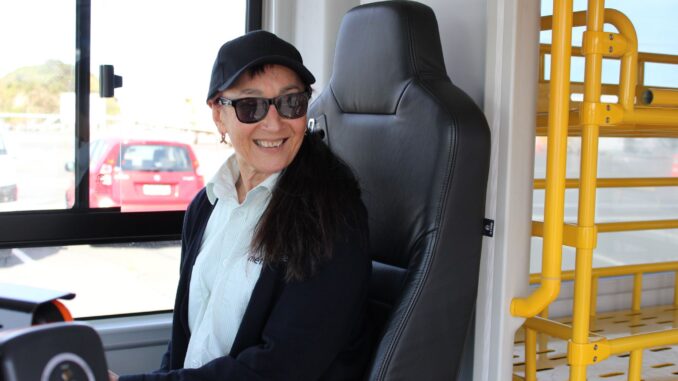 This Bus Driver Appreciation Day, Metlink is celebrating the drivers who pull out all the stops for its network.
Everyone needs a reason to get up in the morning. For Sandy, her joie de vivre is the meaningful Metlink moments she shares with her passengers. One minute she's pointing out a local landmark on the way to the city from the airport, the next she's extending kindness to a passenger in need.
"Often a passenger will sit up the front with me who really wants to know about Wellington.
"We drive past the wind sculpture with all the reeds facing upwards. Some may think it's boring, but at night the reeds are a beautiful cherry red, and I tell my passengers the wind shifting the reeds sounds like dancing piupiu (Māori clothing).
"I mention the five wind sculptures along the route – 'See the orange needle over there? It was hit by lightning a few years ago!' – they love that."
Visitors may be charmed by Wellington's wind, but Sandy recalls a time when the gusts were too strong for a struggling cyclist.
"I was returning to the depot "Not in service" on a windy northerly day, and I saw the young woman who was struggling with her bike.
"I leaned out, my cap flew off and I asked if she needed help. She said she'd been blown off twice, with her tights ripped open and knees bleeding."
Sandy offered to drop the cyclist in Kilbirnie, who was heading to the aquatic centre.
"We got the e-bike off the bus then she turned around, looked at me, and said, 'I'm really lucky you came along'".
"As a bus driver, there's always opportunities to be a nice Wellingtonian."
Now in her sixties with sons living overseas, Sandy's holistic perspective is key to the joy she finds in her work. That, and her morning coffee.
"The naturopath in me knows how you think and fuel your body makes a difference. I grind my own beans in the morning, and I consciously start my day with a positive mindset."
Prior to joining one of Metlink's operators, Mana Coach Services by Transdev, Sandy was a deep tissue therapist and jeweller.
When asked why she transitioned from holistic practice to driving a bus, Sandy looks down at her hands.
"I have hereditary psoriatic arthritis in my hands," she says.
"I was doing a lot of deep-tissue therapy with clients in Johnsonville, and after working with people back-to-back my hands would start to ache. Driving is more comfortable and takes some of that pressure off.
"I don't make jewellery as much anymore because of how it impacts my joints. But I'm always making something – I have to create, and that's one of the reasons I love living in Wellington – it's such a creative city with so much to offer.
"When I became a driver, I had a lot of support from the brilliant trainers and mentors. There were suburbs I've never been to, and I was born here!"
Now six years on, Sandy is still making every journey a little less ordinary.
"Sometimes when I'm at the airport in the Airport Express – which is a beautiful bus by the way – I pick up the paper and ask my passengers if they want to do the quiz while we wait.
"All their hands shoot up, and we work through the answers and have a laugh."
There's a lot of joy in the small things, she says. Little moments like a daily quiz or playing her music helps Sandy connect with the people who board her bus.
"Every week you have these lovely interactions with people – it feeds my soul a little bit,"
"Passengers always tell me how much they love the Airport Express – "This is such a great service for Wellington, thank you driver."
Having driven more than 15 different buses, Sandy says electric buses like the Airport Express (AX) are a firm favourite.
"Electric buses are lovely and smooth, you just glide along the road compared to the diesel buses that lurch in lower gear changes."
With a bus full of visitors, the tour guide in Sandy offers advice on Wellington's must-see sights. Her favourite? The panoramic perfection of the Mount Victoria lookout.
"When it's a beautiful day, hop on a route 20 bus up to Mount Vic. It's stunning. On a nice evening with fish and chips from the chippery, it's really something special.
Regular riders of Wellington's buses will know Sandy. And now, you do too.
16 November is Bus Driver Appreciation Day. Just before you tag off, remember to call out "Thank you driver!" Nice and loud.