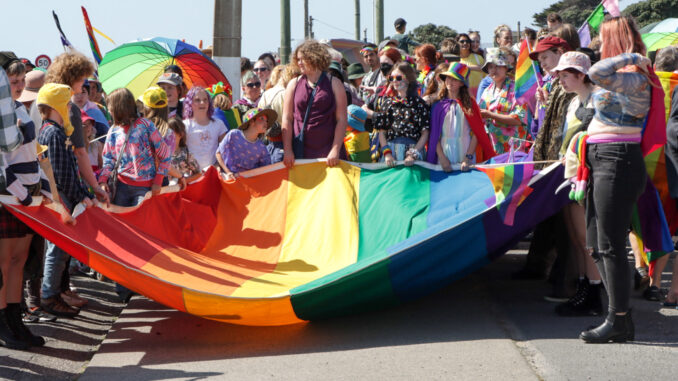 Large crowds turned out in brilliant spring sunshine to watch and take part in the World's Shortest Pride Parade in Paekākāriki (If there is somewhere else on the planet who wants to challenge this status please let us know).
As a key part of the week-long Paekākāriki Pride Festival, the Pride Parade is a stunningly colourful and fun-filled community event which grows bigger every year.
Organiser Val Little and co-founder Pat McIntosh started the event five years ago and are hoping this very well organised event can take place in other villages across the Kāpiti Coast.
Starting at Campbell Park, the Pride Parade made its colourful and celebratory way along what is probably the most scenic march path anywhere and is aptly named The Parade with stunning views of Kāpiti Island.
Arriving for the Parade finale at St Peters Hall is a great spectacle featuring the Taiko Drummers, a dance welcome by Sir Jon Trimmer, and a very welcoming crowd in what is a sea of rainbow colours.
This is the fifth year of the Parade and it is rapidly becoming one of the most significant events in the Kāpiti calendar, celebrating our community in all of its colours.