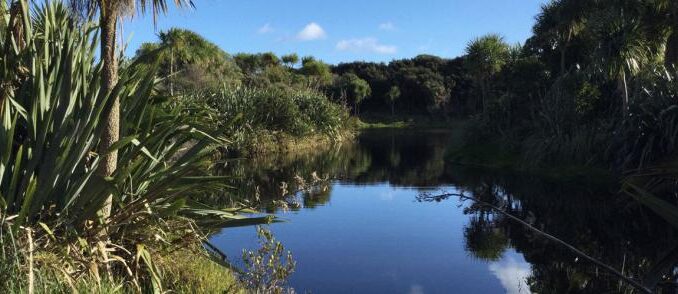 Wayne Mitchell, Chair of the Friends of Queen Elizabeth Park says the group is pretty excited about the speaker they have for the AGM this year.
"Dr Abbie Spiers, a wetland expert, writer and communicator, is a passionate and inspiring young scientist who spends her time lobbying local authorities about better protecting peatlands and waterways in the Wellington region.
"She is particularly active in the Upper Hutt campaign to protect the privately owned Mangaroa peatland. Who better then to support us in our campaign to have Queen Elizabeth Park's 200 hectares of peatlands re-wetted and restored," says Mr Mitchell.
"She certainly has what we're now calling the 'wetland eye' – those people who look at the landscape and see where the wetlands and peatlands lie, in spite of how much they may have been drained, farmed and abused over the years.
"Abbie absolutely agrees with us that the QEP peatlands are extensive and can be easily re-wetted for restoration when funding allows. In fact she says that within five to 10 years they can do a pretty good job of restoring themselves as plants migrate quickly into wet ecosystems.
"She also agrees with us that the re-wetting can be done safely without threat to housing on the edges of the park.
"Our deputy chair Russell Bell (who we think also has the 'wetland eye') showed her the Two Paddocks wetland, which the Restoration Group has been working on for the past couple of years, and we're pleased to hear her say that is just what re-wetting should look like."
Mr Mitchell says Greater Wellington Regional Council does have a long-term re-wetting plan but the Friends believe it is much more urgent than that and should include the whole 200ha at once, rather than the piecemeal plan that appears to be on the table.
"Apart from the obvious and well-documented carbon sink benefits of re-wetting, Abbie tells us it would also avert a 'massive' fire risk – something that hadn't even been on our radar but now gives us another reason for accelerating this campaign. As the drained peat continues to dry out in our warming climate it can burn and peat fires are acknowledged to be the world's toughest fires to extinguish. Abbie says massive peat fires burning in Russia are testament to that and some may remember peat burning in QEP decades ago. We cannot risk a repeat of that."
Mr Mitchell says apart from coming to the AGM, the Friends would be grateful if you could take the time to add your name to their joint submission to the GWRC draft Parks Network Plan, which is open for final consultation until October 23. Please see the link below. If you have already done so, thank you.
https://our.actionstation.org.nz/petitions/restore-all-the-queen-elizabeth-park-wetlands?share=c1bcd084-cd63-4ed6-b789-ddaf5c1c4f25&source=email-share-button&utm_medium=&utm_source=email
AGM Agenda
The following is the agenda for the AGM
Minutes of the previous AGM
Chair's report on the trust's activities in 2019_2020
Treasurer's financial report
Election of new Board of trustees
Any other general business
What Friends of QEP AGM
When Monday, October 5, 7.30pm
Where Pohutukawa Room at the Te Newhanga Kāpiti Community Centre (by the library)
For more see: www.friendsofqep.nz
no