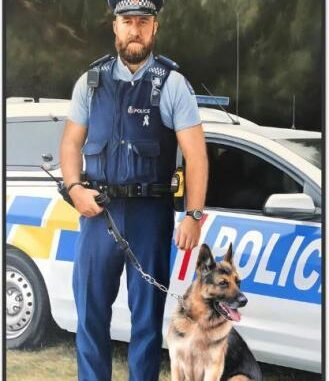 Kāpiti Artist Marcus Ebbett says the New Zealand Police Museum is a fantastic final destination and home for his painting 'Constable Rob Eastham with Ike'.
Constable Eastham is a member of the Porirua Public Safety Team, and Wellington AOS.
Ike served New Zealand Police for 12 years as a frontline veteran and fearless catcher of bad guys. He was a star of the reality TV show Dog Squad. He also performed the testing for the MAKO stab-proof dog vest and road tested the latest police dog vehicles.
In his twilight years Ike appeared at lots of meet and greet events and was an all-round good boy. He died peacefully after his usual morning walk on 5 January 2020.
The painting was a Finalist in the 2018 Adam Portraiture Awards and also received a People's Choice Award. It was selected to tour New Zealand.
About the New Zealand Police Museum
Located on the campus of the Royal New Zealand Police College in Porirua the Museum is in perfect context. Established in 1908 the collection was originally modelled on Scotland Yard's Black Museum. Today the Museum houses and exhibits a large collection of New Zealand Police cultural property and criminal cases.
A modern facility, the New Zealand Police Museum provides education programmes to all ages, using examples of policing excellence and telling the stories of some of the country's more infamous crimes.
The Museum is open between 10am and 5pm, seven days a week (excluding Good Friday and Christmas Day). General admission is free, charges apply for guided tours and programmes and must be booked in advance.
For more works from Marcus Ebbett see: www.marcusebbett.co.nz