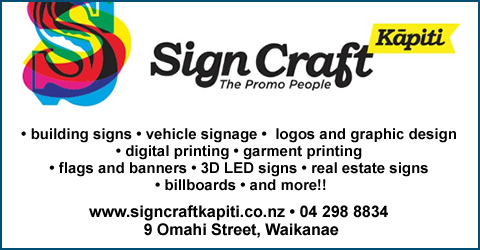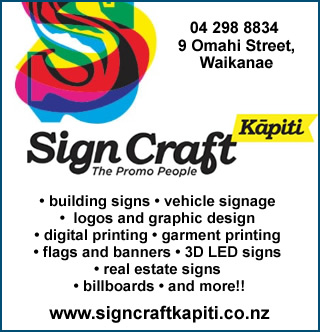 Creating an unforgettable customer experience
(March 2, 2022)
Kapiti Electra Business Breakfast (March 9) is hosting customer experience specialist, Briar Franks of WellingtonNZ and the team from the Electra Business & Innovation Awards.…

...
Cybercriminals attack fundraising sites
(February 17, 2022)
By Jan Thornborough While most of us were on holiday or just cowering from the rain over the long weekend, cybercriminals were busy launching 'carding…

...
Mike Olsen – Kapiti loses a valued Grocer
(February 2, 2022)
Kapiti recently farewelled one of its great characters with the service to remember Mike Olsen. With Covid restrictions, the service was spread over three venues.…

...
Eagle Protect a global award winner
(January 13, 2022)
Eagle Protect, with offices in New Zealand and the US, has been named a winner of the annual global Real Leaders Impact Awards. The annual…

...
Counterfeit banknotes doing the rounds
(January 8, 2022)
Police are asking businesses to be on the lookout for counterfeit money, after fake banknotes were presented at businesses recently. Police are making enquiries to…

...
LOOK UP! Air Chathams returns to the skies
(December 13, 2021)
On Wednesday December 15th the Air Chathams fleet will be providing passenger service once again. Due to the recent COVID-19 lockdown in August of this…

...
Beware the scams of the Christmas Grinch
(November 24, 2021)
"You better watch out; you'd better beware, because cybercriminals are everywhere! They are making their lists and checking them twice, to see who's next to…

...
Solar power shines in Kapiti
(November 22, 2021)
Duncan's Brewing Company of Kapiti has just installed 70 solar panels producing 30 kilowatts of power which will supply enough grunt to run the entire…

...
Kāpiti Food Fair falls to Covid
(November 21, 2021)
Organisers say it is with great sadness and disappointment that the Kāpiti Food Fair is announcing to its foodie community, near and far, that they…

...
Brad Olsen – BA5 speaker
(November 15, 2021)
Join us for drinks, nibbles and the very latest economic date for the Horowhenua at the last November Electra Business After Five. This month's event…

...
Survey shows Sole Traders hard-hit by COVID
(November 4, 2021)
Australasia's fastest-growing digital accountancy service, Hnry, has launched New Zealand's first comprehensive sole trader sentiment index. Thursday, 4 November 2021 –New Zealand's first independent sentiment…

...
PR Battle rages over Kapiti Airport
(November 1, 2021)
It seems battle lines are drawn around Kapiti airport and unusually one person who seems determined for it not to be an airport is the…

...
Raygun driving innovation
(October 20, 2021)
Raygun has been announced as the 2021 Amazon Web Services (AWS) Independent Software Vendor (ISV) Partner of the Year for New Zealand. Announced at the…

...
Incentives for Vaccinated Customers
(October 18, 2021)
Raygun, an award-winning software company, has announced it is on the way to being 100% immunised and is offering significant incentives to any new fully…

...