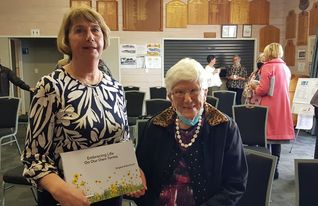 Kāpiti writer Angela Robertson told a full house at the Ocean Road Community Centre that for many the idea of retirement being a sedentary time is a myth.
"There are so many people who reach retirement age and then really start getting busy on projects they love," says Angela, whose two latest books Embracing Life on our Own Terms and Celebrating Life on our Own Terms were launched at the event.
The two latest books have captured the real life experiences from dozens of retirees for her Older & Bolder series.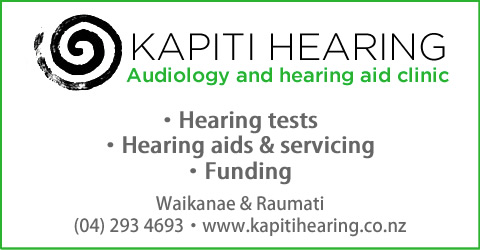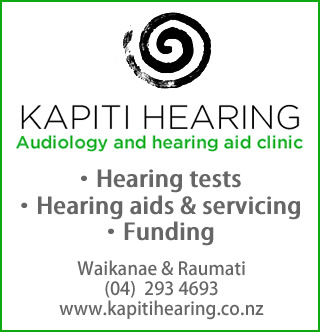 Angela says the stories of those in the books are absolutely inspirational and she made mention of many of those whose brief histories are highlighted in the books.
One person receiving special mention is Kāpiti resident Kath Turkington who, at age 101, is the senior of the group. The story of her life and longevity feature in the book Embracing Life on our Own Terms.
Former PM Jim Bolger and Joan Bolger share a great story about their busy lives and both are still very active in their 80s, and there are dozens of examples of fascinating lives in the books which are a valuable heritage for the families and also for the community.
Angela says the stories are very inspirational and show retirement years can still be full of adventure.
"People trusted me with their stories and they gave me permission to tell their stories and share them through the books.
"Let's make the most of our extended lifespans. After all, life truly is a gift for us to enjoy, and later life can be even more fulfilling that what has gone before. I urge you to write your own stories first for yourself and for your whanau," says Angela.
Guest speakers were Diane Turner, Director of the Office of Seniors and Liz Koh, Director of Enrich Retirement.
Ms Turner says recording these stories is important. "Angela's books bring peoples' stories to life and they show the diversity of our older persons lives."
Ms Koh has spent the last 23 years working with retirees as a financial advisor and has now set up Enrich Retirement, a website with advice on many retirement related topics by many noted contributors.
"Angela is a great role model herself and now bringing these inspiring stories to life is a great asset for the whole community."
Related Websites: